Meet Kelly J. Knight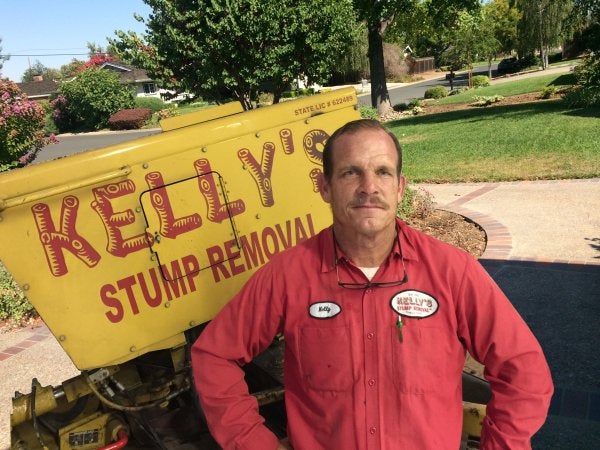 Kelly J. Knight started working for a family-owned Auto/Truck Salvage Yard at the age of 11 and continued until he was 15 years old. Being a quick learner, and having a curiosity of "how", no matter what he was introduced to, he acquired his deep knowledge and talent for how mechanical things work, how to correctly take them apart and, most importantly, how to repair them. Moreover, he developed a talent for ingenuity.
Shortly after leaving the Salvage Yard Kelly started working for a Construction Company, starting at the bottom and doing different aspects of demolition, construction, remodeling and planning. He worked there for a short while, then was attracted to one of the origins of construction—trees.
Kelly then started working for a Tree & Stump Removal Company. The knowledge he acquired at this time was how trees, stumps and their roots affect buildings and landscape construction. More importantly, he learned how they should be maintained or removed.
Kelly went back and forth for two years between the Construction Company and the Tree & Stump Removal Company, progressively spending more time with the Tree & Stump Removal Company, and eventually he was leading and operating the stump removal side of the business. He worked in many departments of the company, including Sales, Maintenance and Operations. While doing this he gained skills in accounting, organization, time management and other aspects related to running a business.
At the age of 18, Kelly went back into construction and continued for a little over two years in this industry. However, like his father, he had developed an intrigue for Accounting, so he decided to enroll in the Accounting Program at Foothill College, located in Los Altos Hills. He continued working in construction as a means of funding his College, completing two years at Foothill. He did this while maintaining a 4.0 GPA.
At 21 years of age, Kelly faced another crossroad in his life. After discussing with his father, George Knight, who agreed to co-sign for the loan on Kelly's first piece of equipment, Kelly bought his first stump grinder and started his own business on May 13, 1983.
In 1983, at the age of 21, Kelly's Stump Removal, Inc. was created and on its way to becoming the De Facto standard stump removal company, for stumps situated in a Small or Narrow Access, in the San Francisco Bay Area. Kelly's gets referrals from almost all the Tree Service Companies in the Bay area when they have a client, or a need to refer a client, who is faced with this situation.
Kelly has developed through the years a reputation for being fair and reasonable with his customers to the point that the name, "Kelly's Stump Removal" is synonymous with "how you should conduct a business". His business acumen is second to none.
Kelly is an honest, open and friendly person. He is a wealth of knowledge in many areas of business, trees, stumps as well as how they all interact and the impact on nature. He is generous, personable, but most importantly, he truly cares about his customers and their needs. He is flexible when a customer has a particular need, such as: scheduling, timing or emergency needs.
We provide quality service at reasonable prices
We SPECIALIZE IN NARROW ACCESS and COMPLETE Stump/Root Removal.
Our Services include:
Free Estimates / Friendly Advice
Stump Grinding
Small Tree & All Shrub Removals
Root Pruning & Removal
Root Barriers Installed
Brush Chipping
Hauling
Tree Planting
Wood Splitting
Air Spade Services for Tree Root Examination
Same-Day Service
Stump Removal
Sidewalk Root PruningReplant Trees with Ease
Re-Landscape with Ease
Electronic Pipe Locating
All Work Quality Guaranteed
We do our best to keep our customers highly satisfied with quality services and reasonable prices. Our services are provided in a 45 mile radius from Sunnyvale, CA.
We look forward to working with you!
Quality and Service are the Roots of our business!