Root Removal Services in San Jose
Serving Sunnyvale Since 1983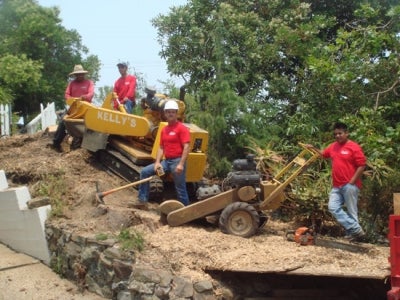 With safety as our top priority, our root removal team at Kelly's Stump Removal can quickly assess root growth and use the most efficient methods possible to remove any roots that are causing problems on your property. Often, roots will wrap around pipes and drainage, and can end up causing extensive damage to your home or business. Our root removal specialists can often track the trajectory of your roots, remove them, and install root barriers to prevent further growth.
Root removal services from Kelly's Stump Removal:
Can stop root growth for good
Are performed with highly specialized equipment
May be necessary if roots underground continue to grow
Need Root Removal Services? Call Kelly's Stump Removal Now!
Our San Jose tree and stump removal company can get to the root of your property's root problems. Our family-owned company has been serving San Jose and Sunnyvale for over three decades and can work toward providing you with a worthwhile experience.

Call Kelly's Stump Removal for a free root removal estimate for your residential or commercial property! Peninsula: (650) 948-0604, South Bay: (408) 747-1630 or East Bay: (510) 429-6939